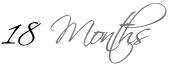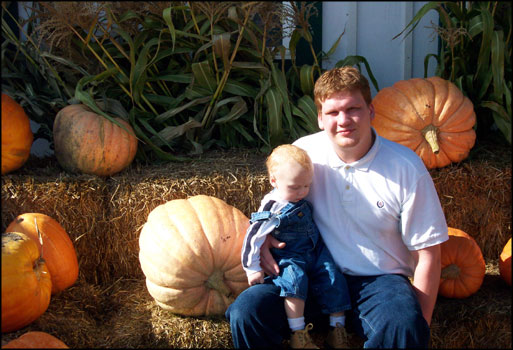 We've been very busy these last few months.
In September, we drove up to Canada (my 1st trip up there!) to visit Nana & Papa Jones. We stopped at Grandma & Grandpa Burnside's house on the way up & down as well. Auntie Kayla was down visiting with us in September, so we ended up driving her home when we went up there. We had lots to do up there. We stayed for 2 weeks, and did lots of sightseeing (since I hadn't seen the sights before). We went on the Harbor Ferries downtown, Mom & Dad took me to the Imax Theater & the Royal British Columbia Museum, Undersea Gardens, out to lots of restaurants, Mommy's old church, a few different parks, the beach, the Theater and did some shopping too. We were very busy up there. Here are just a few photos of me in Victoria with the family: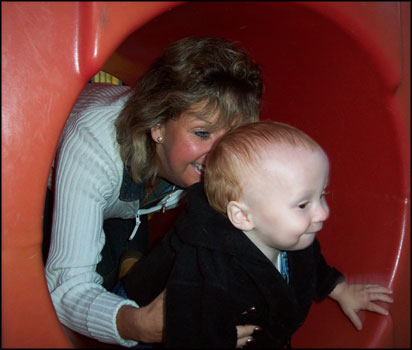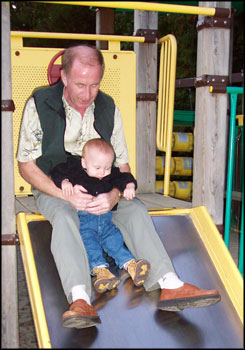 Me & Nana playing in the Tunnel. Grandpa & me on the Slide (my favorite!)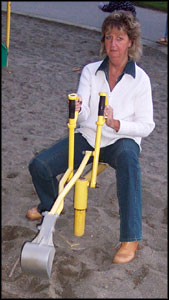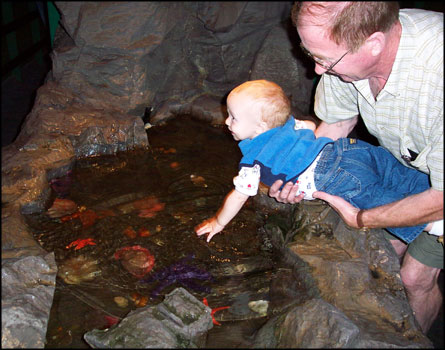 Nana playing on the Digger without me! Grandpa & me at Undersea Gardens.
This month we've been busy with all our activities going on. I'm enrolled in Baby Sign Language on Mondays, Live & Learn with your Toddler class on Tuesdays, Kindermusik on Wednesday's, Gymboree Gym Runners on Thursdays, Water Babies on Fridays, and Gymboree Art Class on Saturdays (which Daddy comes to too!). I also have 2 playgroups I go to: the Indoor Park (which Mommy is a board member for, so she's busy planning all the special events coming up for the Holiday season), and an Attachment Parenting group on Tuesday afternoons. The indoor park is the same one I went to last year, and we go on different days each week because it's open Monday - Friday.
We had Papa Jones down to visit this month as well for Thanksgiving (the Canadian one), and he stayed for a few days. We played outside a lot while he was here. We took him to our church, and for the first time, I went to the Toddler nursery by myself! Usually I sit (well sleep) with Mom & Dad, or we take turns sitting out in the lobby watching the service on TV while I run around. I really liked going in the nursery (even though Mom didn't want to leave me there), and had so much fun playing, I didn't want to leave when they came to pick me up! We also got a lot of Christmas shopping done this month. Mom says she has almost all my presents with the exception of a few stocking stuffers! She won't let me play with them though (I found the closet where the presents are hiding!). She says that she has about half her Christmas shopping done already! We're going to be busy this year traveling to visit family at Christmas so we have to have everything very organized (or else we'll forget people's presents at home!). We're planning to fly to Ontario to visit my Great Nana in late January/Early February, since I haven't met her in person yet! While we're there, we'll get to see lots of family on Mom's side too! We have to book our tickets sometime this month, so I'm excited for my first plane ride!
Friday (Oct 24), I have the Pumpkin Patch Hay Ride with my Indoor Park, so I'm excited to go back there. The Hay Ride is my favorite & I get another pumpkin! Mom says we can buy some dried corn stalks and decorate the house for Harvest! We've already made lots of arts & crafts of mine that are hanging in our window, and we have a fake spider web to put over the front door (but Daddy's needs to wash down all the real spiders before we pin stuff up there!).
This weekend I'm going to be in a Nordstrom Fashion Show! We have to go on Tuesday afternoon to get me fitted for my outfits. It's the Holiday Fashion show too! It's Saturday October 25th, but it's at about 8:30am. I'll make sure Mom & Dad take lots of pictures from my 1st fashion show! Papa Jones might even drive all the way back to come see me. After my fashion show, Mom & Dad are going to take me to Picture People for my 18 month photos & my Halloween costume photos. Then we're going to do a little clothing shopping for Christmas outfits for me (since it's getting time for my Christmas photos & Family photos!). Saturday should be lots of fun!
Mom says we have lots more photo's still to put up on the website. We managed to get all the Pumpkin Patch as a family photo's up, but we still have lots from our trip to Canada, and from the summer as well. We're going to try to get more photos up soon, but Mom & I have lots of activities, and I don't like spending much time sitting at the computer unless I have full control of the keyboard! Mom says I delete too much stuff on my own. :) Maybe if me & Daddy go to the Park, that'll give Mom a chance to add more of my pictures for me.
Love, Austin
PS - Here's some photo's of us setting up my new pool from Grandpa & one of all of us swimming in it this last August! It's so much fun!