Hunter Marshall Burnside is due to arrive on or around Wednesday May 5, 2004! Only 6 days left until our due date - so he could come anytime now! :) So exciting. We're getting Austin prepared for the birth by watching birth movies. He gets so excited when baby comes and starts whispering. He really gets upset when the babies cry though. We've also got a lot of 'big brother' type books that he just loves to read, but they do come second to all his train books. :) He likes to listen to brother with the doppler & fetoscope - but he also likes to listen to the cats with them too. He's going to be a great big brother!
We think we have everything ready for Hunter. Brought home his new car seat yesterday (we bought it 2 months ago and had to put it in storage). Mommy washed all the little baby clothes, linens & cloth diapers this week. We bought matching brother covers for them which arrived today! Too cute. Mommy had them custom made for the boys.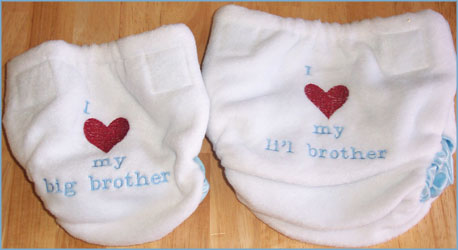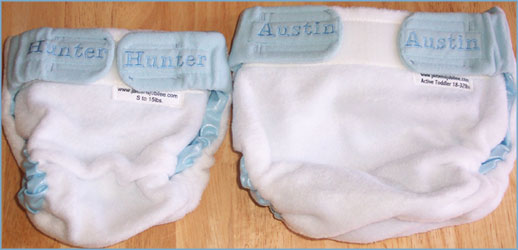 Austin's birthday party is on Saturday May 1 (we can't believe he's 2 already!), so once that's over & done with, then we're definitely ready for Hunter to arrive (Mommy can't go into labor and have all those people here!). Well Mommy & Daddy still have a few things on their To Do lists before Hunter comes - but they're not that important. :) Mommy's list is mostly organizing/nesting stuff, while Daddy is trying to wrap up some projects at work (and setting up his new office!) so he can take 2 weeks off after Hunter arrives and then work from home. We've also hired a post partum doula to help out Mommy, so that'll be great!
We have a few ultrasound photo's of him that we'll put up here, just as soon as Ethan hooks up our scanner again (we moved Austin from the nursery into his own room - the old computer room, and moved the computer room into the old laundry room, so our computer is in half set up pieces). :) Austin is very excited to be a big brother, and says he wants to play trains with him. He also points to Mommy's tummy and says 'Baby', although he does the same for his tummy sometimes too - hehe.
We've got the nursery for him in Baby Cheetah gear (note - this is not our nursery, it's just the display photo to show the theme & pattern we're using): We painted the walls all a sand beige color, which will match nicely with this pattern and the Delta Pine Crib, Changing Table, Dresser & Glider that we used for Austin. It looks great with our new beige carpeting too (we just got it last month - definitely needed to get rid of that yucky Berber crap we had here). It looks so cute (with the exception that Daddy has yet to help us hang our wall decor...you'd think he'd be jumping at the chance to use his new laser leveling stud finder). Mommy loves to decorate which is the main reason we have such cute kids rooms, even though we co-sleep! :) We also bought a King size bed since it was getting crowded with Austin in the queen bed, and there'd be no room for poor Hunter! However even with our new King now, Austin sleeps sideways so we still have no room. :)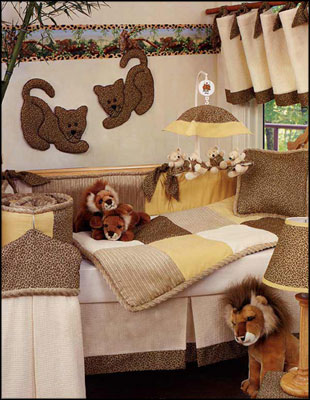 Ethan bought us a new family vehicle too since it was already getting squishy in the Explorer with just us 3. We got a 2004 Eddie Bauer Expedition! :) It's so pretty... Austin & Hunter got new Eddie Bauer matching Black & Beige car seats to go with it - Daddy spoils us!
We've just finished (today!) taking Bradley childbirth classes, which were wonderful. The other couple in our class (due May 4), just had their baby girl, Ava, at a birth center in Eugene on Austin's birthday. We hear she had a wonderful labor & birth and Ava is now one happy co-sleeping, breastfed chubby girl. We're so happy for them! The Bradley method really focuses on the family and husband being an active part in a natural, unmediated birth. It's also very focused on exercise, the health of the mommy and good nutrition - we now follow the Brewer diet. They also promote breastfeeding! Yaay!
We've already stocked up on newborn (still need to work on our size small stash a bit) cloth diapers for Hunter (we didn't start using cloth with Austin until he was in a size Medium, so we have Newborn & Small diapers to buy). They're so cute & tiny! We've been trying to find matching ones for Hunter & Austin, and a lady has offered to make us wool knit covers with Nemo on them (Austin's favorite!). Mommy has all this extra nesting energy, so she's learning to knit, embroider (she got a new machine for Christmas!), sew diapers & baby clothes, cook new foods, play her new Birthday piano, and a bunch of new hobbies! Plus selling a ton of stuff on Ebay to fund all these new hobbies.
That's about it for us right now. We need to do a lot of updates & changes soon, but we're all very busy. Soon - I hope! We have a bunch of photos from Austin's birthday, his trip to the zoo and Easter. Those should be coming very soon.