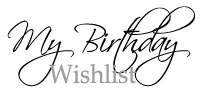 My SECOND Birthday is coming up on Tuesday April 27! Since that's a weekday, and getting very close to when my baby brother Hunter will be born (May 5 due date!), Mom & Dad are going to have my birthday party on Saturday April 24. We're planning to have both sides of the family here and a few of my friends come to play. Mom let me look through the Birthday Express catalog for my party theme, and I chose Finding Nemo because I love the Nemo movie and fish (I even named my fish Nemo!).
Here are some idea's of toys, clothes & things that I would like and/or need. I've been telling Mom all the toys that I like from her big stack of toy catalogs. Mom is trying to keep in mind that toys with lots of small peices could get eaten when Hunter comes along, so sets with lots of little bits aren't a great idea. Click on the names of the gifts and it will take you to their websites. Obviously these are just ideas, and don't even have to be exactly the same as the items on here.
Brio Wooden Train Set
We have a Train Table set that Mom & Dad bought me for Christmas, so I have a lot of track and a few tunnels, but some more buildings and especially trains (Thomas trains too!) would be great. Brio also makes a Plan City line that has peices that interlock with the Brio set, so you can make a whole villiage. So far we only have the bus though.
Three Sisters Toys
They have a lot of neat wooden foods and kitchen sets on here that we like.
Other Toys
Chalkboard & Chalk
Art Easel (preferably folding wooden one)
Art Supplies (a huge roll of newsprint too!)
Outdoor Toys (pool toys too!)
Kitchen Dishes, Wooden Foods & Baking Set (no plastic please)
Wooden Animals Farm Set
Musical Instruments
Wooden Vehicles (especially a firetruck with ladder)
________________________________________
Clothing


Baby Gap
White Oxford shirt, Water Shoes
Gymboree Clothing

Old Navy clothes
Teva Sandals

Mom & Dad think I need spring & summer pajamas, spring & summer clothes, and undershirts (onsies).
________________________________________
Books

I love all books, but my favorite subjects lately are: Animals, Trains, Planes, Buses, and Trucks.
________________________________________
My sizes:
18-24 months (spring & summer clothes) & 2T (summer & fall clothes)
6 shoes & socks