~ Christmas Angel ~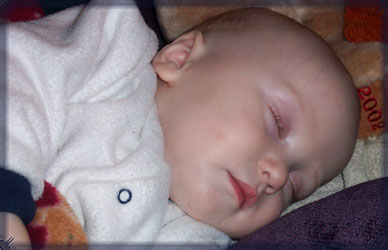 Christmas Day afternoon nap. Opening Presents is Hard Work.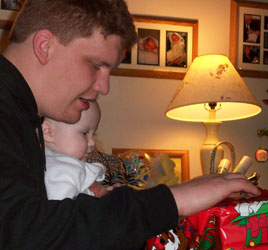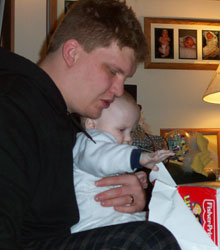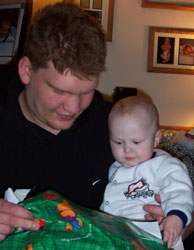 Dad & Me opening some of my gifts on Christmas Day!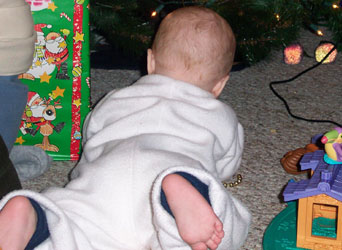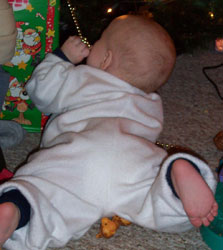 Christmas Day ~ Playing with the tree is more fun than toys.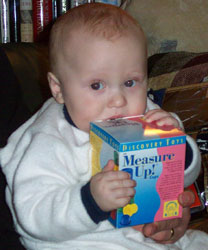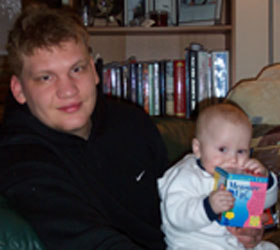 ~ Christmas Morning ~
Dad's New PJ's & Slippers. ~ My new Stacking Cups. ~ Dad & Me opening our stockings.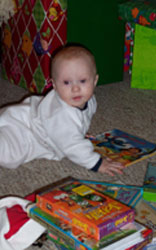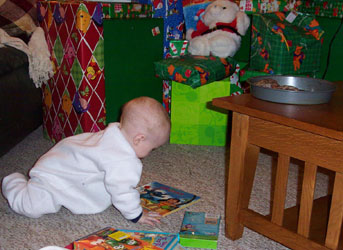 Christmas Morning ~ Playing with my new Books & Movies.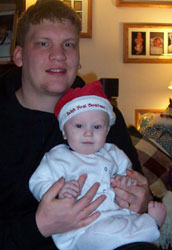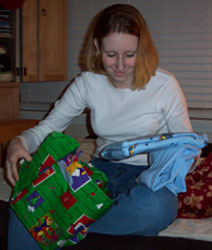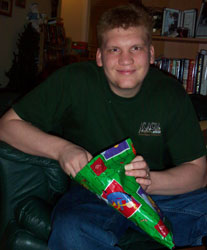 ~ Christmas Eve ~
My new PJ's & Santa Hat. ~ Mom opening her new PJ's. ~ Dad opening his new PJ's.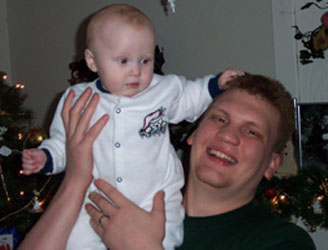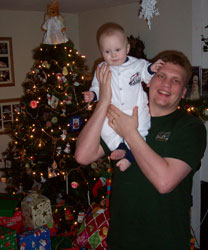 Dad & Me (in my new jammies!) by our Christmas Tree on Christmas Eve.
Austin's Christmas Eve:
Below is me opening my first present. On Christmas Eve Nana Ruth buys us new jammies to sleep in. This is the first present I got to open. Mom & Dad wouldn't let me rip into theirs though. Mom took lots of pictures of me opening my jammies so that Nana Ruth could see how much I love them. Thanks Nana!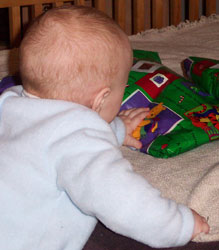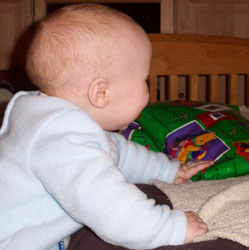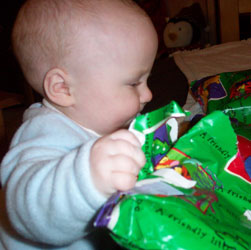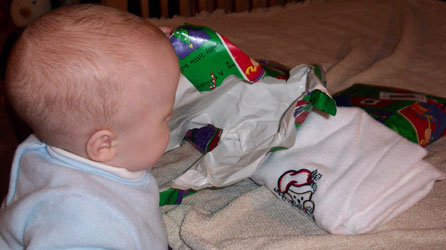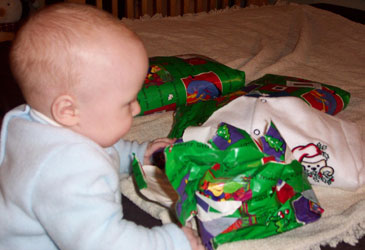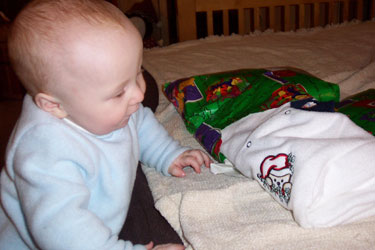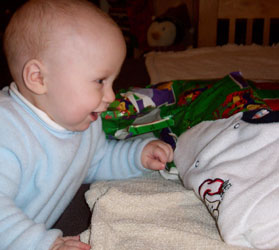 Christmas 2002
We had a pretty good Christmas. I got lots of toys, movies, books and clothes. I got a walker/ride on toy since I learned how to pull myself up on Christmas Eve, so now I can go around the house with Mom. I can even stand up by myself unassisted, hopefully my new walker will help me walk soon so I can chase down our kitties. I also got lots of Little People toys: Noah's Ark, the Nativity Scene, Discovery Airport, the zoo and the amusement park (from Auntie Kayla). I got lots of Veggie Tales movies, books and a Cd (from Nana & Papa). Auntie Jeni got me a pull along horse toy. I also got a Crawl & Cruise playground, Stand up Ball toy, Workshop, Kitchen, cash register and lots more toys. Grandma & Grandpa McElligott got me a very nice sweater outfit, Mom & Dad got me lots of clothes, Nana & Papa got me undershirts and some outfits, Great Nana & Auntie Rae & Uncle Dan got me clothes too. I'm going to be one stylish boy this year! I also received many different books, and movies. I got so much stuff I can't even remember it all.
Mom & Dad had a good Christmas too. Poor Mom was so sick, which is why there is only one picture of her, and why there isn't a whole lot more photos of us on Christmas Day. Mom had bronchitis and a cold so she was resting on the futon almost all day and it took us all day just to open the gifts since she was so weak. Since Mama was so sick, Dad made our turkey dinner for us! He did a really good job - Mom & I were very impressed and grateful, even though I didn't get any turkey dinner, but I sort of get some down the line since I'm still nursing.
Dad got lots of goodies. He got a new receiver, with the satellite speakers & stands to match - now Veggie Tales is in surround sound! He also got Star Trek Movies & Star Wars movies to go with that. Mom & I loaded him up on candy too! He got new books, and magazines. Nana & Papa got him some nice clothes too. He also got slippers, runners and boots and more clothes. Mom & I got him a new keyboard and mouse too. Daddy is almost as spoiled as me!
Mom was super spoiled this year - Dad & I felt bad that she was so sick, so we got her lots of goodies. Dad bought her the nicest ring ever! It's yellow gold with 5 channel set diamonds and a 1 carat Tanzanite stone - Mom's favorite. Her new ring matches the earrings Dad bought her last year. Mom says she'll take a picture of it and put it on our website soon. We also got Mom a photo printer, since she had no way to print all my Handsome pictures from our digital camera. She still hasn't figured out how to work it since we need Dad's help, but we can't wait to print more pictures of me! Mom also got slippers, sweaters, magazines, books, kitchen goodies, a new Bible, a bed desk, makeup & bath goodies and a travel bag and lots more! Told ya we spoiled Mom. (All our family spoiled us all too!)
3 Days after Christmas we drove to Heppner to visit Grandma & Grandpa McElligott & Family. We were supposed to leave sooner, but Mom was still super sick. On our way out of town Dad managed to pick up 2 (yes 2!) tickets - at least they weren't speeding tickets, and the one of them wasn't even his fault so now he has to go to court. We stayed in Heppner until January 2. My Great Ackerman Grandparents were there the first day so we got to visit with them too! The next day we went to visit Aunt Dodie & Uncle John, Sydney & Hayden and played games and watched TV with them. Aunt Dodie even made Mom a birthday cake (her birthday was December 30)! Mom was sick the entire time and was starting to get Dad sick, so we didn't do much for Mom's birthday, but Dad bought her lots of nice roses to cheer her up. We spent New Years with the McElligotts playing board games & dominoes. Then Dad & Uncle Robert & Uncle Brenden decided to have a 'war' with 'Pop-It's at midnight. They're weird sometimes.
We didn't get to go up to Canada this year though but Papa & Aunt Kayla came to visit for my Dedication & Nana & Aunt Jeni came to visit a few days after that (they couldn't all be here at once, cause like us they have a small 'animal farm' to take care of at home). Nana is supposed to come visit us soon this month, I can't wait to see her and show off how fast I crawl and walk (while holding onto furniture or my walker of course). Plus I now have 4 top teeth and almost 4 teeth on the bottom too! Mom & Dad say I'm growing up too fast.
We hope everyone had a Great Christmas, hopefully ours will be better next year with everyone healthy.
Thanks so much to everyone for all our wonderful gifts!
Updated: Friday January 17,2003