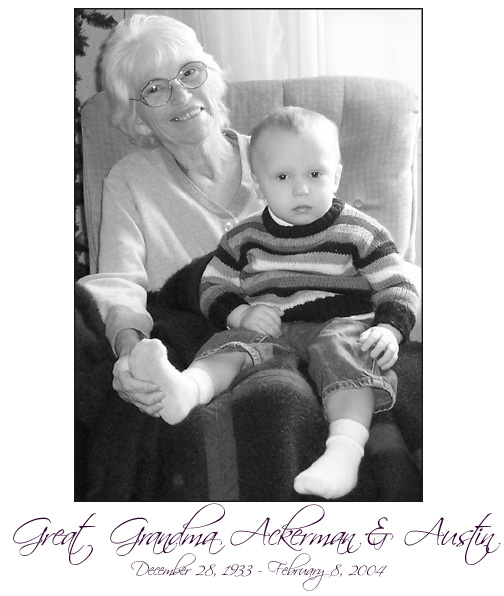 We would like to remember a woman that most of us knew as Marie Ackerman. To tell the whole truth, the full name that her parents gave her was Alice Marie Tyrrell, though she was never quite able to convince herself that she liked being called Alice. When pressed to give an official signature, usually about as much as anyone got out of her was A. Marie.
Marie was born to Omar and Lucille Tyrrell on December 28, 1933 in Lincoln, Nebraska. Four years later brother Raymond was added to the family. The family lived in Nebraska and Missouri and settled in Milton-Freewater, Oregon in 1944.
In 1951 Marie graduated from Walla Walla High School, having been deeply involved there, among other things, with the school paper and the school yearbook. She also was a Ski Club member in high school and a member of the National Honor Society. After high school Marie completed two years of pre-nursing studies at Washington State College. (WSC) There she was a member of the Delta Delta Delta sorority, and according to Bob, she had more fun during the two years that she lived there than any one college girl ought to have in 24 months. She was known to be a bit of a prankster and loved all kinds of practical jokes. I guess we should have warned the other folks in heaven about her prankster habits. Some of her favorites were to put food coloring in the shower heads or short-sheet the beds or sneak out of the sorority house after hours. There at WSC on a fateful day in 1951 Marie met Robert Ackerman, the oldest son of a farming family from the little town of Dusty, Washington. One thing led to another, and Marie became Bob's beloved bride on August 16, 1953.
Following graduation from Washington State College, Bob's duties with the Air Force took him and Marie to Arizona, where they began their family with daughter Laura then Robin two years later. Next it was back to Dusty and later to Spokane, where they added Ann and Lisa to their family. Marie and Bob finished raising the girls in Snoqualmie, having moved there in 1968. Ultimately the four girls brought into the family son-in-laws, 14 grandchildren, and 1 great grandchild.
Marie was a professional homemaker who epitomized the saying, "If something is worth doing it is worth doing well." She never worked outside the home for profit after the girls were born, but devoted her energy and time to the care of her girls and Bob. One of the favorite memories all the girls hold dear is how Mom always worked hard to prepare hot breakfasts for them each morning before school, even to the point of popping the toast in the toaster just as they came through the kitchen door.
She also enjoyed making her house a home, in the deepest sense of the word. "Home" was a place for her family to regroup, to recharge and to retreat from the concerns or stresses of daily life. One way she accomplished this was in the beauty she spread throughout the home in her use of color, her skills in interior decorating, especially with an abundance of flower arrangements.
Marie also thoroughly enjoyed her many gardening projects, no matter whether she or the slugs got the most enjoyment out of her efforts. Given a choice she nearly always spent her free time puttering outside rather than dusting off the collection of teacups in the kitchen.
She enjoyed serving as a wedding coordinator. After 4 weddings for 4 daughters she was quite experienced - not to mention how this activity filled her need to make lists and organize. She was a superb seamstress and made most of her daughters' clothing. They have many fond memories of beautiful gowns for special occasions - usually with a hem finished as the car was waiting in the driveway! After her daughters left home she loved spending parts of the winter in Arizona, and bringing home from garage sales and flea markets still more things that she had absolutely no use for.
Marie was taken to church by her grandmother and accepted Christ as her Lord and Savior as a child. This relationship with Christ greatly affected the remainder of her life. She was filled with His love and it spilled over onto all of us. Wherever she and Bob lived they were active in local churches. In Spokane this was Fourth Memorial Church. In the Snoqualmie area they were actively involved in Preston Baptist Church and Snoqualmie Church of the Nazarene. In these churches Marie served in children's ministry. She also led many a chorus and taught many a flannelboard Bible story as a club leader with a children's outreach ministry known as Child Evangelism Fellowship. She helped to start the Young Life chapter in Snoqualmie when her girls were in high school. These activities brought her into contact with many dear people who brought her much joy - her friends. The Holy Spirit directed her activities so that her priorities were: loving and serving God, loving and taking care of her family, loving and serving her friends and neighbors, and being a good steward of her home and possessions.