We drive down to Eugene, Oregon for his Gymboree Play & Music classes. Eugene is approximately 45 minutes south of us, and that's the closest class. I am in Gym Walkers on Monday afternoons for 45 minutes. The class is for Moms and Dads along with us kids to interact.
The first part is spent exploring all the equipment and the surroundings. There is lots of singing songs and playing games. The rest of the class is parachute time, bubble time, Gymbo (the clown) time, parent topics to discuss, exercises and the goodbye song. I really love going to Gymboree and I learned how to climb very well after a few classes (I can now can get onto Mom's coffee table!).
____________________________________________________________________
Monday April 21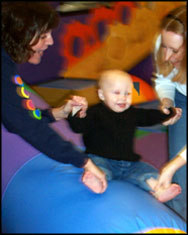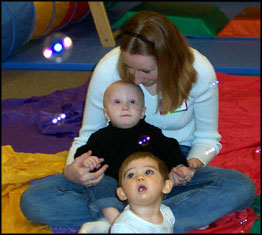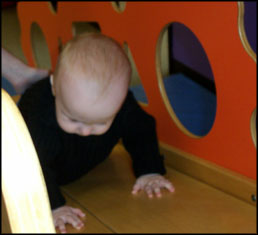 Austin on the Air Log Slide. Bubble Time. Climbing & Discovering Time.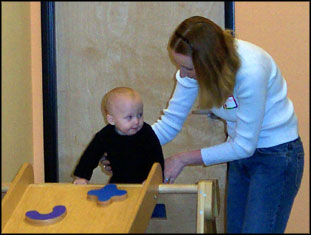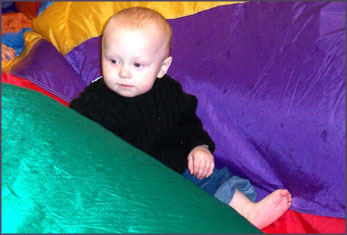 Climbing with Mom. Parachute Time!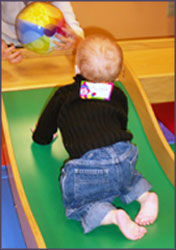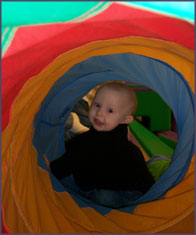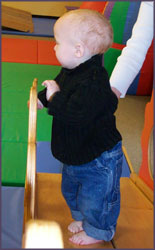 More Climbing. Playing in the Tunnel. Walking up a Slide!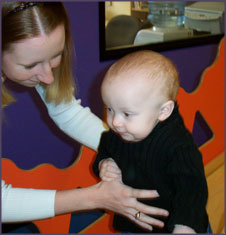 Sliding with Mommy.

Everybody inside the Parachute!
____________________________________________________________________
Monday April 28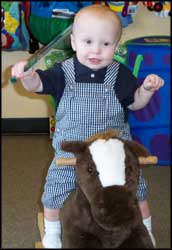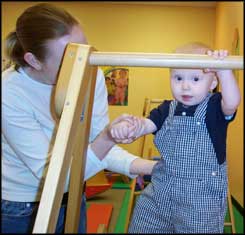 Riding the horse in the Gymboree lobby. Climbing in class.
____________________________________________________________________
Wednesday April 30
Mommy & I went to our first Quarter Notes Music class at Gymboree to see if we liked it. There was only one other person in my class, Rachel. The theme today was Reggae. The song Mommy & I liked the best was 'Raindrops keep falling on my dreads'. I got to play with lots of different instruments. Maracas make good weapons I discovered! We sang, danced and discovered instruments. Mommy said she had fun too, but she's not sure if she's up to driving that much each week down to Eugene, and she says the classes are a little expensive on top of gas prices. I hope we go back for more, but I have to wait until Mom & Dad decide.
After Quarter Notes class Mom & I stayed for the Open Gym. It's when the big gym room with all the fun climbing equipment is open to Gymboree members to explore and play. I had a lot of fun exploring, since for 20 minutes I had the entire gym to myself! Today they were having 'Made by Me at Gymboree' for Mothers Day. So us kids got to paint hand and footprints onto aprons, tiles, wall hangings and tote bags. Mom wanted to do a tile, but I didn't like it so I squished my hands and feet together so it didn't turn out. Teacher Julie says we can have the squishy feet tile for free anyways for a funny keepsake. Then Mom & I made Aprons & Tote Bags. I liked doing those so I opened my hands and feet flat out for those paintings. Mom wrote some sayings, my name and the date on the things we made and I painted with Teacher Julie and Teacher Debbie. Teacher Julie (and Emily) are my Gym Walkers class instructors and Teacher Debbie is my Quarter Notes instructor. We'll be able to pick up our artwork on Monday at class. Mom says we'll take pictures of the things we made (my gifts to her for Mommy's Day) and put them on my website for everyone to see!
Teacher Debbie told us about a new class they have at Gymboree when I'm older. They started Arts classes using Crayola products, so when I'm 18 months old (in October) then I can take art classes too! Mom just wishes that Gymboree Play & Music was closer. Me - I don't mind since I always nap all the way down there and back since I'm either tired on the way there (from swim class right before) or tired on the way home (from all my gym walkers exercise).
____________________________________________________________________
Gymboree Class on Monday April 14, 2003