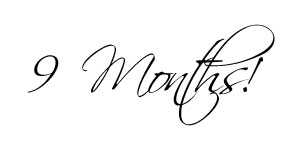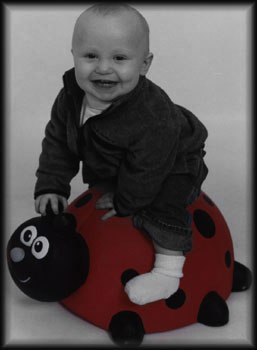 Mom & I went to Water Babies swim class today. I had so much fun! I met another little boy like me named Ben, and he's lots of fun. He wasn't very happy though - the pool was 2 degrees cooler than usual, plus we got in and out of the water a lot so he was shivering the whole time - poor guy. James was another little boy I liked. He's almost 2 years old. He and I splashed each other and laughed lots. Mom & I learned how to kick our legs in the water to go fast. I also got to be dunked! That was scary the first few times and I swallowed some water, but by the end of class I could dunk myself in the shallow end to get my dinosaur toy from the bottom. I learned to keep my eyes closed underwater and am learning to hold my breath too. After swim class Mom & I took a really warm shower to warm up, cause the heat wasn't on in the changing rooms. Brrrrr. On the way home I fell asleep for a 3 hour nap! Next Water Babies class is next Wednesday - Monday's class is canceled since it's President's Day. Daddy is hopefully coming to watch my next class, so he can take pictures of Mommy & I.



We had a very busy day today! Mom & I went to playgroup at the Indoor Park today from 9:30 - 11:00am. There weren't very many kids there today, Mom said it was probably because everyone wanted to stay home since it was so foggy. At playgroup it was just us, Joshua & his mom, Jade & Thomas and their mom. Joshua & I played nice for a while, but then he hit me on the head with they toy phone until I cried. He's 8 months older than me, so he's pretty strong. I played with the doll house, kitchen set (chewing the plastic food feels good on my gums), put balls in the Ball Blast stacker, climbed on the climbing structure, and tried to fix the pipes under the sink in the eating area. After playgroup we went out to Shari's for lunch with Jade, Thomas & Misty. Mom let me have a little bit of gravy from her turkey sandwich, but I didn't like it much. Then we went to the Toy Factory downtown. I loved playing with the wooden Brio trains set. Mom wouldn't let me take them home though cause they're expensive. Mom bought me a wooden rolling toy that I can walk with and it jingles (bad description, but it's a great toy!) and 2 books: The Jolly Postman (since it's a neat book and you get to read other people's mail) and The World's Biggest Bed ( cause the kids in that book Co-Sleep like we do!). After the toy store we brought Daddy home some lunch, I took a nap and then we went to the library all afternoon. We looked at lots of stuff there: movies, family & parenting magazines, San Francisco guide books, Disney World guide books, family devotional books, saving money books and then we went to the children's room and sat on the big stuffed bear and read stories. Mom read me stories and I climbed or ate actually. It was so fun. Then at dinner time we went to Lebanon to Wal Mart ( cause Daddy was still busy working). Mom bought me a LeapFrog toy for my upcoming birthday, and a baby swing for our swing set in the backyard. We finally got home at 8pm and I played with Daddy, the cats and my toys until I fell asleep in Daddy's arms. My day was exhausting and fun - I'm going to sleep good tonight.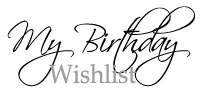 My birthday is coming up Sunday, April 27. I'm so excited!
Dad & Mom said I could have a Veggie Tales party.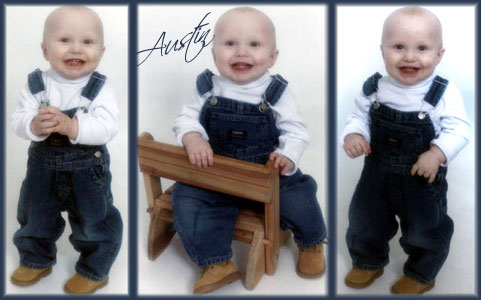 | | |
| --- | --- |
| Mom and I went up to Salem today. We went to the Picture People and my favorite photographer - Jami - took my pictures. She even asked Mom if it was ok to use my picture in their store displays! We had so much fun - the best part was driving the fire truck - we need one of those at my house. While my photos were being developed, Mom & I decided to shop a bit. We went to Nordstrom's and got some new clothes for me, went to the Disney Store and I got a giant Patch stuffed animal (from 101 Dalmations). We went to Meier & Frank and got some more clothes and then ate some lunch. I tried to play in Mom's pasta but it was really messy. After lunch we went to JCPenney, Gymboree (we found some cute froggie clothes I'd like), and the toy store. Mom bought me the coolest toys there! I got wooden refridgerator magnets of the alphabet & animals, a wooden shape puzzle and Brio blocks. We went back to the Picture People and picked up my photos (I look adorable of course) and then headed home to see Dad. Then we went to the bookstore in town with Dad to look around for a while and got some family books, then we went home to order pizza & watch movies. What a busy day! | |
| | |
| --- | --- |
| | Mom & Dad tried to feed me peaches, they were sweeter than the apples, but I don't like the way they feel on my tongue. I had to scrape the food off with my lip and hand. Yuck. It was better than the applesauce though at least. |
February 5 - Dad came to the park with me and we played in the tunnel slide.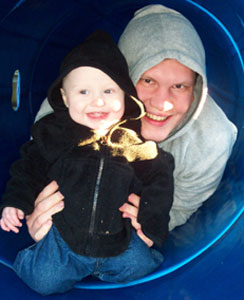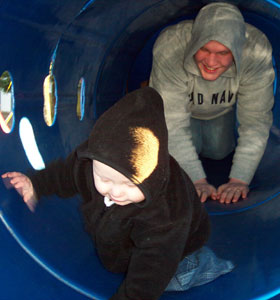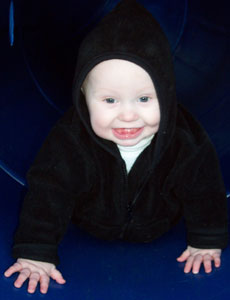 February 4 - Mom & I went to the park for the afternoon. We played on the slide, in the tunnel slide, on the swinging bridge, the swings and the bouncy dinosaur. We had so much fun.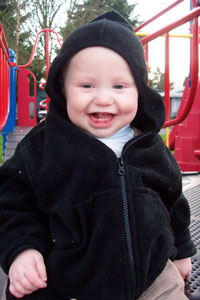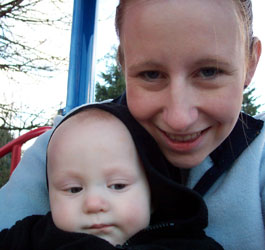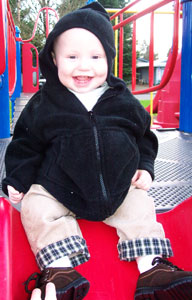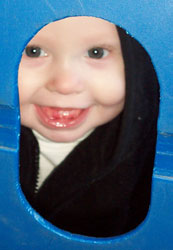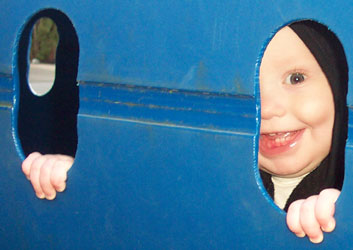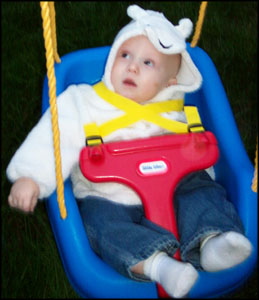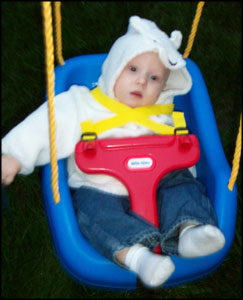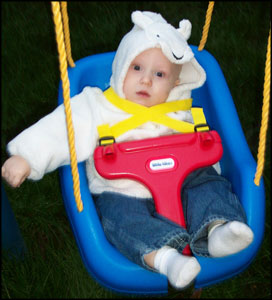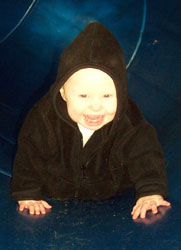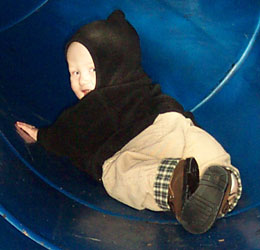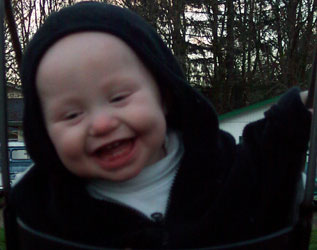 February 3 - Mom & Dad tried to feed me applesauce, but I'm much happier being breastfed. The apple sauce was not very sweet and it made my cheeks pucker up. I do not like apple sauce.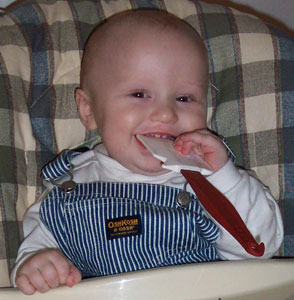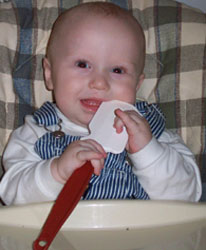 February 2 - We found homes for the kitties. Mom is pretty sad about that. I'm still happy cause I have Runtie, Madison, Patchie & the little one to play with. Runtie is the best though cause he's so fluffy (he's a long haired kitty). Spike, Mercedes, Bandit and Maguire all found good homes, in fact Bandit & Maguire went to the same home so at least they won't get lonely. Daddy was happy and sad. He loved the kitties but they were getting expensive and Daddy is not fond of cleaning the kitty litter box so often. We'll miss them - but Mom got lots of pictures to remember them. We still need to put pictures up of Munchkin (the office kitty), Madison (Dum-Dum), Mumford & McFinn (the outside kitties), Patchie (my kitty), Runtie (Daddy's kitty) & Little one (the baby) and the other kitties we had earlier that found homes. We'll add those soon.


Mercedes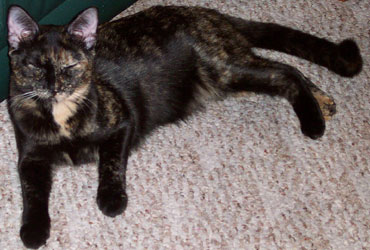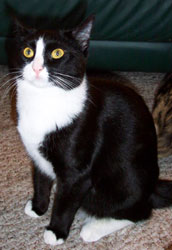 Baby Bandit & Spike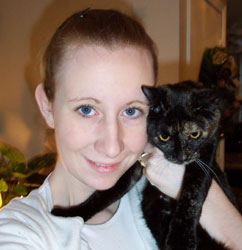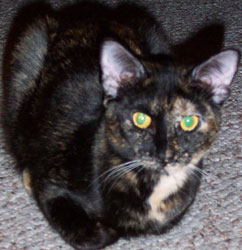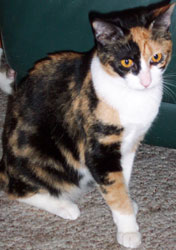 Mom & Bandit, Bandit, Maguire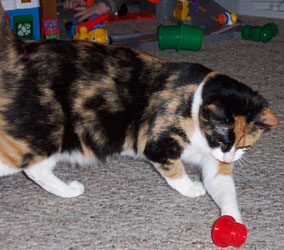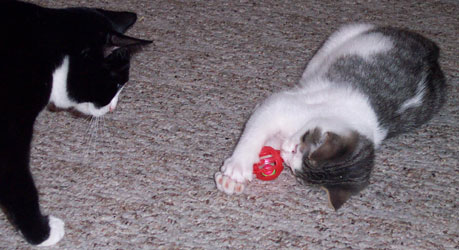 Maguire, Spike & Little One
Mom & I start our Water Babies class on Monday February 10, so we're both excited. Nana Ruth bought me a new swimsuit too (Tommy Hilfiger!!) when we went shopping with her at Nordstrom. Mom & I are still going to the indoor park and I love playing with the girls there. Dad says I'm a flirt (whatever that means). Mom & I are thinking of going to Gymboree classes, but Mom's hesitant cause they're an hour away. Mom did find a few other Mommies around here that are going to start up bible studies and playgroups, so that'll be fun for me too.