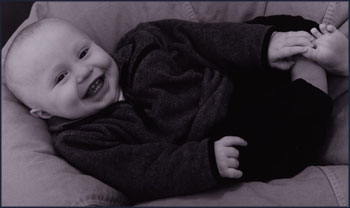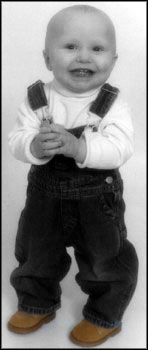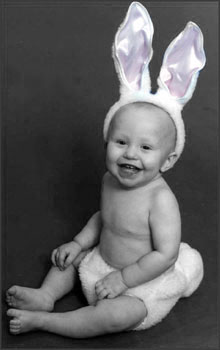 UNDER CONSTRUCTION!!!
| | |
| --- | --- |
| Mom & I went to Water Babies swim class today. I had a lot of fun - as always! I got to be dunked and have my picture taken underwater! I learned how to jump off the wall into Mom's arms. I also learned how to 'monkey crawl' along the sides of the pool holding on (a safety thing) and use 'safety toes'. We had mirrors in the pool so I got to watch myself blow bubbles too. There was just Gabriel, Julia, James and me at class today. After swim class Mom & I took a really warm shower to warm up, cause the heat wasn't on in the changing rooms. Brrrrr. It's always so cold in there. On the way home I fell asleep - just like always. Next Water Babies class is next Monday March 10. | |

Mom went to the dentist this morning. She got her crown fixed (the dentist broke it when she got her wisdom tooth out - ow!). She isn't feeling well now - the dentist is no fun. I spent most of my day playing with Auntie Kayla and my toys. Hopefully Mom will feel better tomorrow. She says her jaw is really sore too now. Poor Mommy.





We had a very busy day today! Mom & I went to our Water Babies class at 9:30am and played in the pool after until about 10:30am. Nana Ruth & Auntie Kayla came to watch and took lots of pictures too. After swim class we went to playgroup at the Indoor Park today from 11:00am - Noon. There weren't very many kids there today, and they ended up leaving shortly after we got there, so I had all the toys to myself! I played with the bead maze, climbed on the climbing structure, and a few other things. After playgroup we went out to Lyon's for lunch. I slept through the entire lunch. After lunch we went to the baby store and then the Kid Shop. Mom bought me a neat 'practice cutting' food set. It's all wooden and Velcro's together that you cut with a little wooden 'knife'. I also got a farm set of wooden magnets. Then we went to the craft store and looked around (mostly at the scrapbooking stuff - Mom loves scrapbooking!). We bought some teeny little mini colored eggs sprinkles for Easter cupcakes that Mom liked. After that we went to the library the rest of the afternoon. We looked at lots of stuff there: movies, parenting books, family devotional books, cooking & baking books, saving money books and then we went to the children's room and looked at books for me. It was so fun, we love going to the library. We came home to have dinner with Daddy and played board games again. (PS - There's swimming & playgroup photos under my 10 Month pictures page on the Photo album link.)

Nana Ruth and Auntie Kayla are visiting us right now. Things got really hectic around here for Dad trying to work, take care of us & keep up on the housework, so Nana came to the rescue! We got all caught up and now we're all feeling a lot better. This morning Mom & I went to Papa's Pizza for a FlyLady meeting. Mom is the group 'co-ordinator/moderator' for the group for our area! This was their first real meeting (they have an online discussion group). FlyLady is a organizing type program to help you get everything done & have time left over each day. Mom says it's helping a lot ( and judging by the looks of our clean house - Dad & I can't help but agree!). Misty came with us too. We met lots of nice friends, there were about 25 other ladies there of all ages. One grandma held me and almost rocked me to sleep! Another lady brought Mom flowers, they smell so good. After that we went home to get Auntie Kayla & Nana (Dad was still working hard to catch up on business). We went to Albany to the Family Living Expo at the mall. We shopped around a bit too. Nana bought me a turtle sprinkler for the summer from the Discovery Toys booth! After a few hours of shopping, we went to Ruby Tuesday's for dinner (Mom loves it there). I got a balloon too! We went to Fred Meyer for a hour or so to wander around, and then headed home. When we got home we played lots of board games with everybody (Daddy finished working for the day). I mostly played with my fridge alphabet magnets and the cats, while everyone else played games though. It was lots of fun.
What a busy day!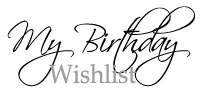 My birthday is coming up in 12 days! On Sunday, April 27. I'm having a Birthday Party on Saturday, April 26th at 2:00pm. Dad & Mom said I could have a Veggie Tales party. I'm so excited!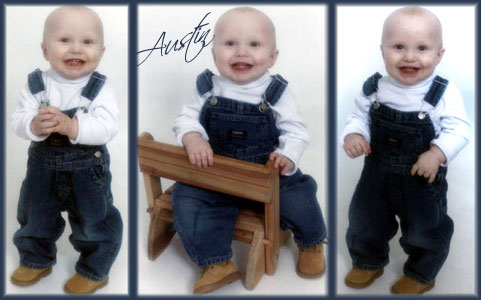 Previous Current Events: